0
The Phuket Ladyboy Scene 2022/2023
Sep 02 2022 09:08 PM | admin in
Bar Life
Phuket
Bars
Escorts
While it may not compete in terms of the number of ladyboys and bars you will find in Bangkok and Pattaya, it still has several vibrant redlight areas and places to book and meet ladyboys.

For many adult travellers, Phuket is the complete package. The escort scene is not as in-your-face as it is in Pattaya and parts of Bangkok, but it's there. And for those who want more than just adult nightlife, this island offers stunning beaches, nature, and a quality of life that Bangkok and Pattaya can't compete with. Where is the Phuket Ladyboy Scene?
Patong

Bangla Road

Karon

Kata
Patong
When talking about the wild nightlife of Phuket, Patong is the HQ of the Phuket ladyboy scene. On the island's west side, Patong is the most popular bay and beach resort on Phuket. It has a long stretch of attractive sandy beaches lined with bars, shops, massages, etc.

Patong hosts numerous beach parties, club nights, and live music daily. Its clubs attract international star DJs, and beaches host year-round festivals and events. This is where you'll find the island's most attractive locals and freelance escorts. Most importantly, there are many beer bars and entertainment venues with ladyboy staff and freelancers..

Despite Patong attracting many families, travellers, and honeymooning couples, escorting is very much accepted. You'll find escorts available to book online and freelance ladyboys working in the busy streets, looking for company at many clubs and live music bars, and even hanging out at the sizeable Jungcelyon mall.
Bangla Road

While Patong is the centre of the Phuket nightlife and escort scene, Bangla Road is the wild beating heart of Patong. This 400-meter strip of bars and clubs is where you'll find the best of the Phuket nightlife scene and escort venues. Here you'll find the infamous Tiger beer bar complex, welcoming gogo bars (such as Suzie Wongs and the Devil's Playground), ladyboy cabaret shows, live music venues, and some international standard EDM clubs.
Many clients prefer to find dates online and use Bangla Road as the ideal date spot for a fun night together. The nightlife here is extremely welcoming to singles and couples alike. It's impossible not to have a good time cruising this wild strip and seeing where the night takes you.
Karon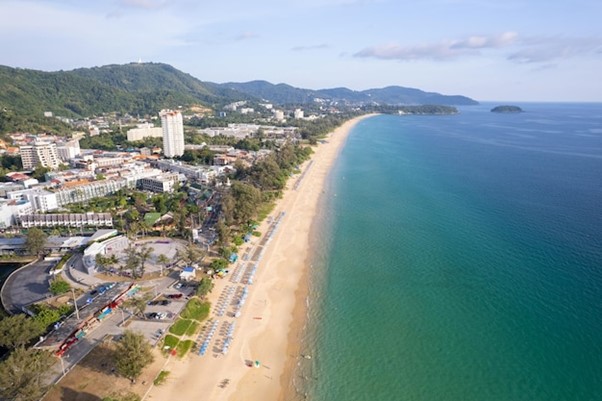 A short taxi ride south of Patong is Karon. Here you'll find a different pace of lifestyle and nightlife, but also a good selection of beer bars and freelancing escorts, including some ladyboys. Karon is much more laidback and home to many large chain hotels and swish beach resorts.

Karon has a stunning 3KM long stretch of soft sandy beach and many local eateries. It's a great place to take a date for a few days and escape the madness, but it also has several small beer bar complexes with escorting staff available (most notably the Karon and Patong Plazas). Due to its tranquil vibe, you'll find the ladyboys working here prefer the quiet life (whereas wilder escorts may typically like to work in the anything-goes town of Patong). That said, most staff working online in Patong will happily travel the short distance to Karon to join you.
Kata



While Karon is quieter than Patong, Kata is even more peaceful, especially during the low season. But while the nightlife can be lacking at times, the beach is fantastic, and there are still several bars and freelancers working in the area. Found at the far end of Karon beach, many mongers choose to stay here to experience that idyllic laidback tropical lifestyle. It's also only 20 mins in a taxi to the Patong nightlife, and many online escorts would travel here for a client. Kata is home to Phuket's most prominent beach club, attracting freelancers on the big nights.

The nightlife, beer bars, and escort scene are not in-your-face in Kata; this discretion is precisely what some are looking for. If you know where to look, you'll find several beer bar complexes in Kata, which host 5-10 bars, each hosting several escorting staff. Many of Kata; 's beer bar complexes can are off Kata Road; one, in particular, can be easily spotted due to the Spiderman statue at the entrance.
Phuket after Covid
As with most places, Covid has changed the face of the Phuket escort scene, and it's hard to know how much of this change is temporary or permanent.

For a good while, Phuket shut down to tourism. During this time, the nightlife and escort scene was almost non-existent, and Patong and Bangla Road became ghost towns. Thankfully, things have begun to re-open, and Phuket has become host to a sandbox system where incoming tourists can visit without any notable quarantine.

The sandbox has brought Patong and Bangla Road back to life, with this area of Phuket beginning to thrive again. Of course, it's still not comparable to how things were in Phuket the years previous to covid, but most of the bars, clubs and other escort-friendly venues are beginning to re-open.

Many are finding the current situation in Phuket ideal. Due to its popularity in the past, Phuket could be overcrowded at times. With the Phuket nightlife and escort scene now open to business again but tourism numbers still modest, it's a great time to come and have fun while enjoying the paradise beaches and views.

Despite the recovery of the Phuket escort scene in Patong, things in Karon, Kata, and areas such as Kamala and Rawaii are much quieter, with many beer bar complexes still closed. Most escorts and nightlife workers are heading to Patong while the rest of the island catches up.

As of mid-2022, things in Phuket are starting to return to normal, but not quite as chaotic as it's busiest months, pre-pandemic. For many, this is the perfect time to explore the Phuket ladyboy scene.
For the dating ladyboys in Thailand we recommend joining Thai Friendly which has hundreds of Thai ladyboys listed.
For dating ladyboys globally we recommend joining My Ladyboy Date which has attractive ladyboys in many Asian and Western countries.

For ladyboy escorts in Asia and Europe, make sure to try Smooci.
Article: The Phuket Ladyboy Scene 2022/2023

Rules ·